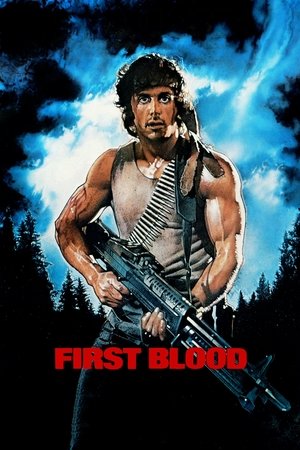 First Blood
5198 Views
When former Green Beret John Rambo is harassed by local law enforcement and arrested for vagrancy, the Vietnam vet snaps, runs for the hills and rat-a-tat-tats his way into the action-movie hall of fame. Hounded by a relentless sheriff, Rambo employs heavy-handed guerilla tactics to shake the cops off his tail.
Genre: Action, Adventure, Thriller, War
Stars: Sylvester Stallone, Charles A. Tamburro, Bill McKinney, Richard Crenna, Brian Dennehy, Chris Mulkey
Crew: Bub Asman (Sound Editor), Tom Bronson (Costume Design), Jerry Goldsmith (Original Music Composer), Andrew Laszlo (Director of Photography), Mario Kassar (Executive Producer), Mario Kassar (Presenter)
Country: United States of America
Language: English
Studio: Orion Pictures, Carolco Pictures, Cinema 84, Elcajo Productions, Anabasis N.V.
Runtime: 93 minutes
Quality: HD
Released: Oct 22, 1982
IMDb: 3.5
Keywords:
prison
,
vietnam veteran
,
falsely accused
,
police brutality
,
sheriff
,
guerrilla warfare
,
submachine gun
,
gun
,
hero
,
destroy
,
self-defense
,
vietnam
,
vietnam war
,
prosecution
,
dying and death
,
police operation
,
attempt to escape
,
matter of life and death
,
tramp
,
national guard
,
firearm
,
police
,
escape
,
rural area
,
antihero