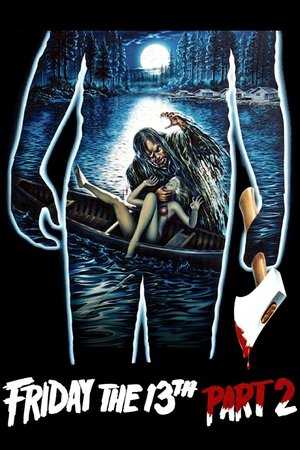 Friday the 13th Part 2
1110 Views
Five years after the horrible bloodbath at Camp Crystal Lake, it seems Jason Voorhees and his demented mother are in the past. Paul opens up a new camp close to the infamous site, ignoring warnings to stay away, and a sexually-charged group of counselors follow -- including child psychologist major Ginny. But Jason has been hiding out all this time, and now he's ready for revenge.
Stars: Amy Steel, John Furey, Adrienne King, Kirsten Baker, Stuart Charno, Warrington Gillette
Crew: Webster Whinery (Stunts), Mark A. Baker (Location Manager), Steven Kirshoff (Special Effects), Ellen Lutter (Costume Design), Harry Manfredini (Music), Victor Miller (Characters)
Country: United States of America
Language: English
Studio: Paramount, Georgetown Productions Inc.
Runtime: 87 minutes
Quality: HD
Released: May 01, 1981
IMDb: 4.9
Keywords:
new jersey
,
camping
,
sadism
,
summer camp
,
psychopath
,
horror
,
woods
,
slaughter
,
gore
,
serial killer
,
b movie
,
slasher
,
series of murders
,
brisbane
,
supernatural horror